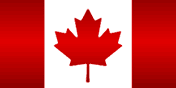 Online gambling laws in Canada may be a little tough to nail down, but they are much more liberal than those of other nations, such as the United States. The legal status of online betting on Canada is often described as a 'gray zone'. This is because there are a few pieces to this puzzle that are considered to be less than definitively conveyed in the criminal code. In an effort to assist players in navigating the legal landscape surrounding online gambling in Canada, we've broken down the information into understandable segments that provide insight into the online gambling laws that affect Canadian players.
Is online gambling legal in Canada?
Lets start with the elements of the criminal code that are clearly represented. The Canadian gambling laws for both online and offline gambling are primarily directed at the operator and not the player. There are no provisions within the Criminal Code that make it illegal for Canadian residents to enjoy online gambling from a legally licensed and regulated business. There have been no instances of the Canadian government or law enforcement pursuing a criminal case against anyone for participating in online gambling. The laws are not intended to monitor or restrict players, but rather to provide a safe and legitimate gambling environment for Canadian residents to enjoy.
Providing any type of online gambling services to Canadian residents without a legitimate license is illegal. The area that turns everything gray is when it comes to offshore online gambling businesses. As mentioned before, players in Canada are free to legally enjoy online gambling at any type of licensed online gambling site they so choose, including offshore gambling sites. The Canadian government would prefer to restrict online gambling to only those sites that are operating within their borders, but this is something that is not likely to ever take place. For one, there is no way to monitor the level of engagement between players and offshore gambling sites. Secondly, if an online gambling site is licensed and regulated by a governing jurisdiction that has specifically legalized online gambling in their region, then they are outside of the scope and reach of any Canadian gambling laws. This is the same issue the USA faces in their efforts to restrict online gambling from other nations. It simply cannot be done without dramatically restricting Internet use, which no free nation would stand for.
Who Regulates Online Gambling in Canada?
The government of Canada has determined that each province is free to determine its own destiny with regards to online gambling. This means they are free to allow or prohibit online gambling at their discretion through relevant legislation. They are also responsible for the licensing and regulation of the industry within their territory. Most of the provinces in Canada offer some type of online gambling to their residents, with many offering casino, poker and sports betting opportunities, as well as pari-mutuel, lottery and bingo. The range of legal Canadian online gambling options that are available varies from region to region based on specific provincial regulations. In most cases, the online gambling sites that are licensed in the individual provinces limit access to their services to only those players located within their specific territory. There are some inter-provincial compacts however that have formed cooperative agreements to share the player base between regions. Canadian based online gambling sites cannot legally offer their services to players outside of their approved region.
The Kahnawake Gaming Commission is a gambling regulatory body that is located in the sovereign Kahnawake territory near Quebec, Canada. This Commission has become one of the most respected gaming authorities in the world. They administer the licensing and regulation of multiple online gambling sites that offer their services to players around the world, including those in Canada. You can learn more about this effective gaming commission from our page about the Kahnawake Gaming Commission.
As far as online gambling sites that are located outside of Canadian borders, those destinations are licensed and regulated through the governing jurisdiction in which they are located. This being the case, it is important to restrict participation in offshore gambling sites to only those destinations that have been vetted and approved by industry professionals, such as the sites recommended in this guide.
How do I know which offshore gambling sites are legitimate?
To be honest, from a player standpoint, it is hard to know for sure which sites are legitimate and which are not. This is one of the prime objectives for the creation of this resource guide. We have a team of experienced analysts that carefully and extensively place each online gambling site through an intense review process to determine that they are legally licensed, legitimately regulated, and offer a premium, high quality online betting experience. We can vouch for the sites you see listed in this guide. We include several sites that are licensed and regulated by the Kahnawake Gaming Commission.
What types of online gambling do Canadian players have access to?
Nearly all of the popular gambling platforms are available in Canada, including legal Canadian online casinos, poker, pari-mutuel wagering, sports betting, bingo and lottery.  In addition, CA residents have the option of enjoying these betting venues from brick and mortar destinations or online gambling sites, both local and offshore.  The best way to ensure that you are accessing legally sanctioned gambling action is to rely on the input of industry professionals and the endorsement of local patrons.
Will I have trouble make a deposit into Canadian online gambling sites?
As long as you are placing bets at an online gambling site that welcomes Canadian players, then you should not have any trouble making a deposit into your account. Unlike US players that have the UIGEA to contend with, Canadian laws do not restrict your options for funding your online gambling accounts. Most Canadian friendly online gambling sites accept CAD (Canadian Dollar) for transactions.