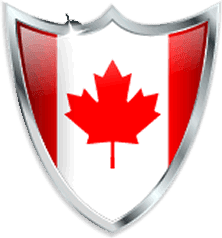 Gambling laws in Canada have evolved over the last 46 years to render the nation a rather gambling-friendly region. With more than 100 brick and mortar casinos located throughout the country, Canadians are clearly interested in gambling entertainment. Canada is also home to some of the most trusted online casinos, poker rooms and sportsbooks in the world, with options available from government licensed gambling sites as well as offshore gambling sites.
This section of our guide is dedicated to providing information to players seeking answers about the legal status of online and offline gambling in Canada. Understanding the legalities involved is imperative to engaging in legally sanctioned gambling entertainment. We have endeavored to create a viable resource guide that breaks the information down into manageable segments for making informed decisions regarding your involvement with online gambling and betting at brick and mortar destinations. Legal Gambling Canada is not intended to replace or serve as any type of legal advice or service, but rather a guide for providing insight into the Canadian gambling industry and what they allow as far as legal betting options.
Legal Gambling Destinations in Canada
Gambling laws in Canada are contained within their Criminal Code. The gambling forms that are permitted within the country are listed as exceptions in their Code. There is nothing in the Criminal Code that prohibits players from participating in legal gambling entertainment. The laws of the land are directed toward gambling businesses operators rather than players.
The Canadian government has left it up to the individual provinces to determine the gambling laws for their own territories, and has given the responsibility of licensing and regulatory oversight to each province as well. This means that gambling opportunities vary from region to region. You can learn more about the details of brick and mortar gambling businesses from our page covering Land Based Gambling Laws in Canada.
Online Gambling Laws in Canada
As with brick and mortar gambling destinations, the laws concerning online gambling are contained within the nation's Criminal Code and managed through provincial governance. There are no provisions within the Criminal Code that make it illegal for Canadian residents to enjoy legally licensed online gambling entertainment. This includes both provincially licensed online gambling sites and offshore gambling sites that accept Canadian players. To learn more about your options, visit our page about Canadian Online Gambling Laws.
How do I find safe and legal Canadian Online Gambling Sites?
Along with clarifying the legal landscape surrounding online gambling in Canada, another function of this guide is to provide recommendations from industry experts regarding which Canadian online gambling sites are among the best that the industry has to offer. Through a collective effort of seasoned online gambling analysts, we've created a review process that effectively determines the legality, quality and efficiency of prominent online gambling sites. Not all sites are created equal, and the ones you see listed in this guide are industry leading brands that met our stringent criteria for inclusion in our guide. Right now we've only launced our Canadian online casinos guide. However we intend on launching a full spectrum of sections on our website that should prove to be helpful for all types of punters in Canada.
Kahnawake Gaming Commission
The Kahnawake Gaming Commission is located in Kahnawake, Canada, overseeing the licensing and regulation of various brick and mortar and online gambling businesses. They operate by the authority of the Kahnawake sovereign nation and are responsible for the emergence of some of the world's most respected and prestigious legal online gambling sites. Though they technically reside within Canada's borders, the fact that they consider themselves their own sovereign nation places them in the 'offshore' category regarding the gambling businesses that they operate. Multiple brands that are managed by this Gaming Commission offer their services to Canadian players. You can learn how they've influenced the gambling market in Canada and around the world on our page dedicated to the Kahnawake Gaming Commission.