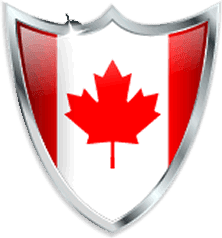 Canada has not always been the pro-gambling territory that it is now. Prior to the 1970s, the criminal code allowed very little when it came to gambling entertainment. Over the years, slowly, the nation has gone from 'No Way' to a fairly gambling friendly region. You will find a significant number of legally licensed, brick and mortar gambling destinations throughout the country.
You will also find provincially governed online gambling businesses that offer their residents a sophisticated interactive gaming experience from the comfort of their own homes. Lastly, but certainly not least, Canadian residents can legally enjoy offshore Internet gambling sites as long as they are legally licensed and regulated.
Understanding and navigating the gambling laws in Canada are no simple feat. Being able to distinguish between legal and illegal gambling opportunities has become more complex and challenging for all involved. This guide was created to serve the gambling community in Canada by providing insight into the legal status of various gambling platforms, including land based gambling and online gambling.
We provide information that is critical to understanding what players are facing in CA. This information is also extremely valuable for those players wishing to make informed decisions regarding gambling entertainment. We have an entire section of our resource guide dedicated to explaining Canadian Gambling Laws.
Bottom Line Regarding Legal Canadian Gambling Options
Canadians essentially have 2 legal online gambling options available to them. They can choose to play with the local government licensed casinos or lottery sites which are owned and regulated directly by the providence (only a handful exist), or they can choose to play at an offshore gambling site. Both options are 100% legal as there are currently no laws at all that prohibit CA residents from playing for real money via an offshore site. And that's exactly what most Canadians do since local options are extremely limited. Plus the offshore sites offer much more in the way of bonuses and perks compared to the local sites.
Most Trusted Online Gambling Sites Open To Canadian Players In 2023 – Play In CAD

The following online gambling sites accept all Canadian players and allow real money gambling in (CAD currency). These sites have been thoroughly vetted by our team of professionals and are well regarded as reputable sites within the online gaming community. Most of our team lives right here in Canada and knows the industry inside and out. In short we love to gamble just like everyone else and will only recommend the highest rated sites to our visitors that we know are trustworthy and pay out winners without the bs.
Frequently Asked Questions Related To Gambling In Canada
Is It Legal To Gamble In Canada As Of 2023?
To answer this question, one must understand the legal landscape that surrounds the gambling industry in Canada. There are no laws in the Criminal Code that prohibit CA players from enjoying gambling entertainment from legally licensed and regulated businesses. It is illegal to operate an online gambling site or brick and mortar gambling business without acquiring the proper licensing. Once licensed, every gambling business must adhere to strict regulatory oversight.
The key to staying on the legal side of the tracks when it comes to gambling in Canada is to make sure you restrict your gambling entertainment to only those destinations that are legitimately licensed. Visit our page on Land Based Gambling Laws in Canada for more insight into brick and mortar options that are present in Canada.
Is Online Gambling Legal In Canada?
There are no provisions within Canada's Criminal Code that make it a crime for players to participate in legally sanctioned online gambling entertainment. This includes both provincially governed gambling sites and licensed offshore gambling sites. This means it is perfectly legal at this time for Canadian players to enjoy online gambling from betting sites at home and abroad.
You can learn more from our guide to CA Online Gambling Laws. This guide includes recommendations for legally licensed and reputable gambling sites that have been vetted and approved by our team of industry professionals.
What Is The Legal Gambling Age For Canadians?
A few territories such as Alberta, Manitoba and Quebec allow anyone over the age of 18 to gamble. The rest of the provinces require players to be at least 19 years of age. This is true for both land based brick and mortar casinos or internet gambling sites.
Are Canadians Required To Pay Taxes On Winnings?
This is one area where Canadian players should feel very lucky. Canada does not tax casino winnings or on any game of chance. In other countries the government takes anywhere from 30%-50% right off the top, so not being required to pay taxes on winnings is a very big deal.
What Types Of Gambling Options Are Available To Canadian Residents?
Due to the pro-gambling stance that Canada has taken, there is a nice variety of online gambling venues to choose from. Below we've listed the most popular options available and relevant information about each.
Sports Betting: Canadian sports betting is one of the few types of gambling that is permitted through national law rather than provincial law. It is included as a specific exception to the Criminal Code and is permitted via a three team minimum parlay wager. Bill C290 is attempting to remove the 3 team minimum requirement to allow wagering on single games and matches. There are multiple sports betting outlets throughout Canada, as well as online options.
There are a lot of complaints regarding Canada based sports gambling due to high betting limits and lines that are not competitive with the offshore sportsbooks. Players are not required to fulfill the three event parlay wager at the international offshore sportsbooks. There is a handful of high quality, legally licensed offshore sportsbooks that accept Canadian players. We've listed the leading destinations in our legal online sports betting in Canada guide.
Online Casinos: Canadian online casinos are available through local, provincially regulated destinations and from licensed and regulated offshore online casino sites. Those residents who do not live within a province that offers online casino gaming action will find that the offshore Canadian friendly online casinos are a great option for this type of entertainment.
Online Poker: Like casino gambling and sports betting, Canadian online poker is available through both the individual province channels and through legally licensed online poker rooms that are located offshore. In fact, the Kahnawake Gaming Commission has licensed some of the industry's leading online poker destinations, including Bodog and Bovada.
Additional options include pari-mutuel wagering, bingo and lottery, all of which can be accessed either through provincial based gambling sites or licensed offshore gambling destinations.
Do These Offshore Sites Allow Me To Play In Local Canadian CAD Currency?
Yes, because we only recommend the biggest and most reputable sites, they have the ability to offer real money gambling in local currencies such as offering CAD dollars to Canuck players.
How Do Gambling Bonuses Work?
Every online betting site offers some type of welcome bonus or reward to new players. They do this because online gambling is a very competitive market, and they need to offer enticing bonuses to attract new players and sustain growth.
The most basic bonus is called a deposit or match bonus which means the casino or site will match your first deposit up to a certain amount. A good example is if a casino was offering a 100% matching bonus, and you deposit $500, you would have $1,000 to play with as they basically matched your first deposit in full. Of course there are terms and conditions that players need to be aware of, so make sure you read and understand the terms of any promotion you take advantage of.
Are These Offshore Betting Sites Really Legitimate?
Well not every online gambling site you see on the web is legitimate, that's for sure. But we can guarantee that the sites listed on legalgamblingcanada.com are all very reputable sites. One of the sites "Bet365" is actually a multi billion dollar company. They did 1.5 billion in revenue in just 2015 alone.
That's an interesting tidbit to know as a gambler. They didn't get that big by being shoddy or by jerking players around. Instead they actually pay their winners when they request a cashout. They run their gambling business like a well oiled machine and come correct in every way. And the other sites we recommend are all just as reputable with an excellent history with paying players, offering fair casino games, superb customer support and more.
These are all characteristics that we look at before even being considered to be listed here. It's why you only see only a few sites listed for each category. Because we are very keen on delivering only the 5 star Canadian friendly gambling sites that we know will take very good care of anyone we send their way. From one gambler to another, trust me you want to play with the top rated sites that have a good history. It will save you headaches and dollars down the road.
Who Regulates Gambling In CA?
This gaming commission is located in Canada, but does not regulate any of the provincially licensed gambling sites that are operating in the country.  They actually regulate both land based and online gambling for businesses located within the Kahnawake Territory.  This region is considered to be a sovereign nation and oversee several of the most respected Canadian friendly gambling sites on the Internet.  Learn more about them on our page dedicated to the Kahnawake Gaming Commission.
Which Provinces/States Offer Legal Gambling Options To Canadian Residents?
Here is an overview of the larger provinces and what types of gambling options are available at each one.  Keep in mind that while provincial online gambling may be restricted to residents of that particular province, Canadian friendly offshore online gambling sites are open to all CA players.
Alberta – Alberta is Canada's most populous province and offers quite a few land based casinos.  Alberta does not yet have any provincially licensed online gambling options, but is expected to move in that direction sometime this year.  Residents do have access to international online gambling sites that are legally licensed and regulated outside of CA.
British Columbia – British Columbia originally offered online lottery tickets and sports betting options back in 2004.  They later added poker, bingo and online casino games.  Licensed offshore gambling sites are also an option.  Gambling is regulated by the British Columbia Lottery Corp (BCLC).
Manitoba – This province offers online casino games, poker and sports betting through a provincial partnership with British Columbia.
Brunswick – Residents in this province have access to online bingo, interactive games, and lotteries through the Atlantic Lottery Corporation (ALC).  Online poker and casino games are expected to be integrated into their offerings in the near future.
Newfoundland – The online gambling options in this province are the result of a partnership with ALC, and include bingo, lotteries, interactive gaming and sports betting. As of 2010, the province rejected any expansion to their online gambling offerings.  Residents of Newfoundland that seek online casino games or poker will need to visit a legally licensed offshore gambling site.
Northwest Territory – The Western Canada Lottery Corporation permits legal online and land based gambling in this province.  As of this writing, there are no provincially run gambling sites operating in the Northwest Territory.  This being said, legal offshore gambling sites will gladly accept citizens residing in this province.
Nova Scotia – The ALC provides online gambling options for Nova Scotia, including lotteries, interactive games, bingo and sports betting. The region declined to include any type of online casino games, deciding against forming their own provincially regulated gaming industry.  Casino enthusiasts in Nova Scotia can visit our recommended offshore online gambling sites for expanding gaming options.
Nunavut Territory – Despite the fact that the Western Canada Lottery Corp allows legal online gambling in this region, there are no provincially run gambling sites operating here.  Residents in this territory must rely on legally sanctioned offshore gambling sites to enjoy online betting options.
Ontario – Ontario is considered to be one of the more progressive provinces in CA when it comes to online gambling, however their online gambling initiative has not yet launched.  Until then, Ontario residents can enjoy legitimate online gambling options at one of our recommended Canadian friendly gambling sites.
Prince Edward Island – Another ALC partner, this province offers its residents online bingo, lotteries, interactive gaming, sports betting and pari-mutuel wagering.  Online casino and poker gambling is pending the ALC receiving permission for expanding their offerings.
Quebec – The Quebec province is one of the few offering their residents online casino gambling opportunities through a provincially governed gambling site.  For poker and sports betting options, Quebec residents can check out our preferred offshore betting sites for an expanded range of options.
Saskatchewan  – This conservative province has banned land based casino gambling in their region, and has indicated that they will not be allowing online gambling within the province.  The good news is that residents of the Saskatchewan province are welcome at a number of legally sanctioned offshore betting sites.